| Deutsch |
---
F E D 1 7
Software for Magazine Springs
(C) Copyright 2016-2022 by HEXAGON Software, Berlin
---
FED17 - Calculation of Magazine Springs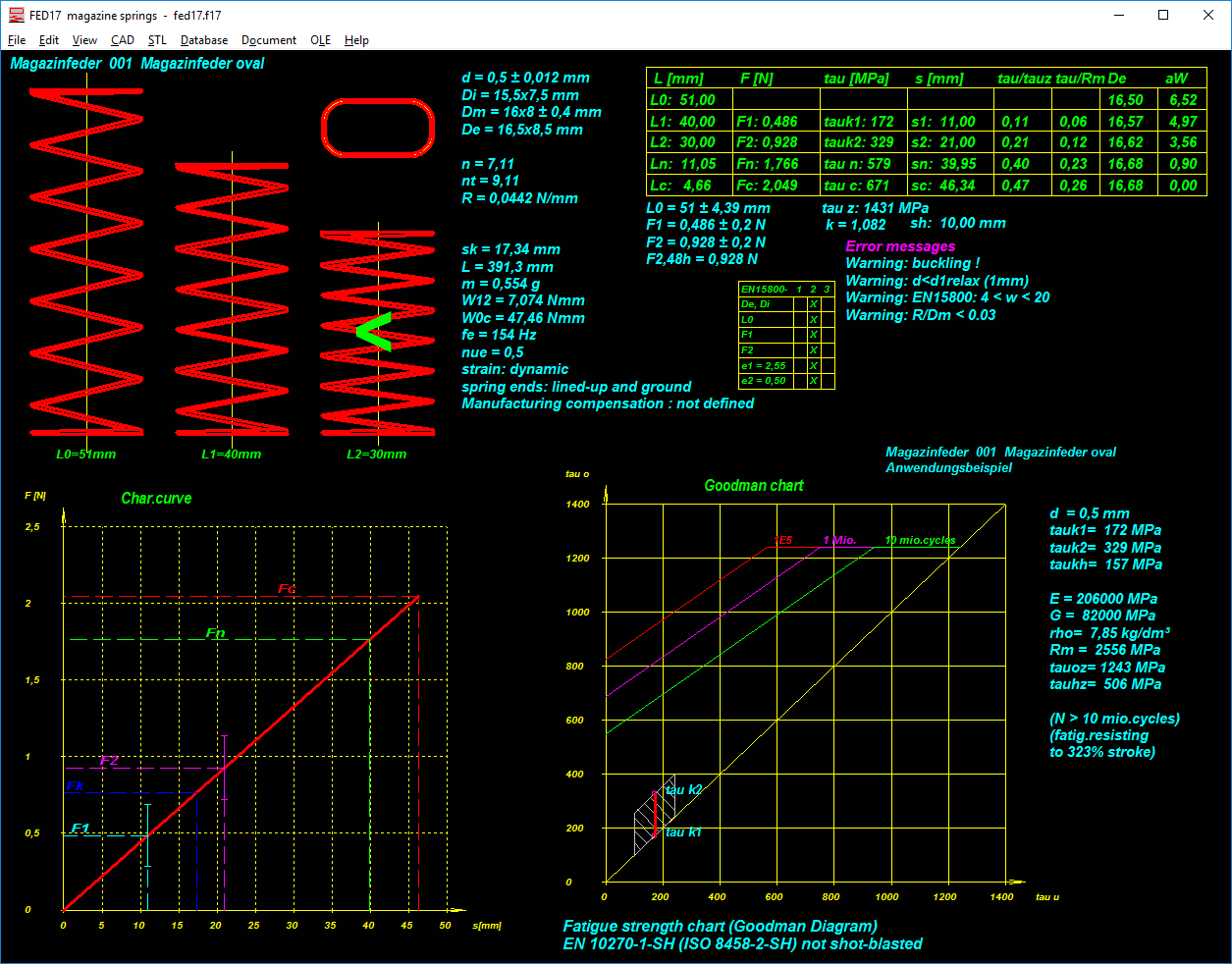 FED17 calculates magazine springs, helical compression springs of rectangular, oval or elliptic coil shape. If you select oval or elliptic coil shape and set coil length = coil width, even cylindrical compression springs can be calculated by FED17. Magazine springs are calculated according to the formulas of EN 13906-1, where applicable. Spring loads, deflections, spring rate, spring energy, stress, wire length, buckling length, natural frequency and weight are calculated.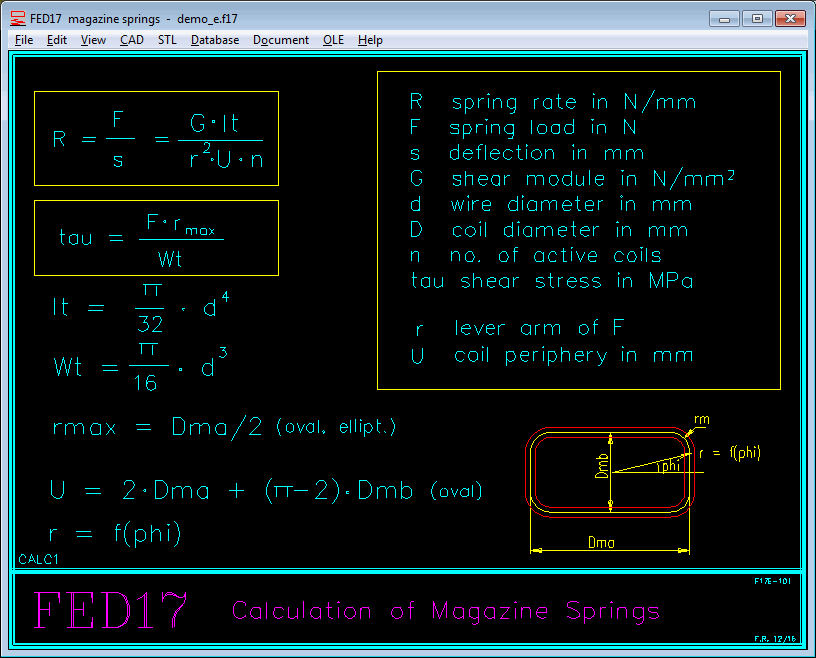 In pre-dimensioning, enter only 2 loads, stroke, coil shape and ratio of length to width, and FED17 calculates magazine spring dimensions.
In dimensioning, magazine spring dimensions are calculated from the spring loads, stroke, coil langth and width and clamping length.
In recalculation, existing springs can be calculated by input of spring dimensions.
---
Wire shape
On default, FED17 calculates magazine springs of round wire. But even springs made of square, rectangular and elliptic wire can be calculated
---
Input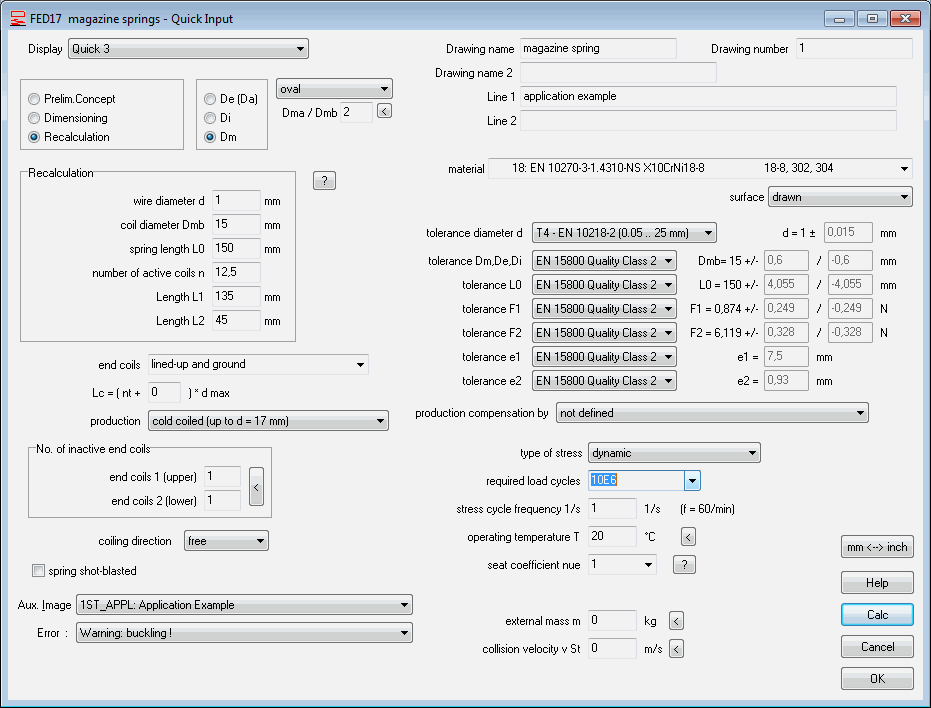 Enter data for wire shape, base data, material, description, production, tolerances, application altogether in Quick input, or in separate input windows.
---
Spring Material Database
The software obtains the material properties from the integrated material database (tensile strength, admissable shearing stress in relation to wire diameter, shearing modulus, modulus of elasticity, density).
---
Spring Tolerances
The program calculates the tolerances for the wire diameter d according to EN 10218, EN 10270, DIN 2077, and for Dm, L0, F1 and F2 according to EN 15800 or DIN 2096.
---
Goodman Diagram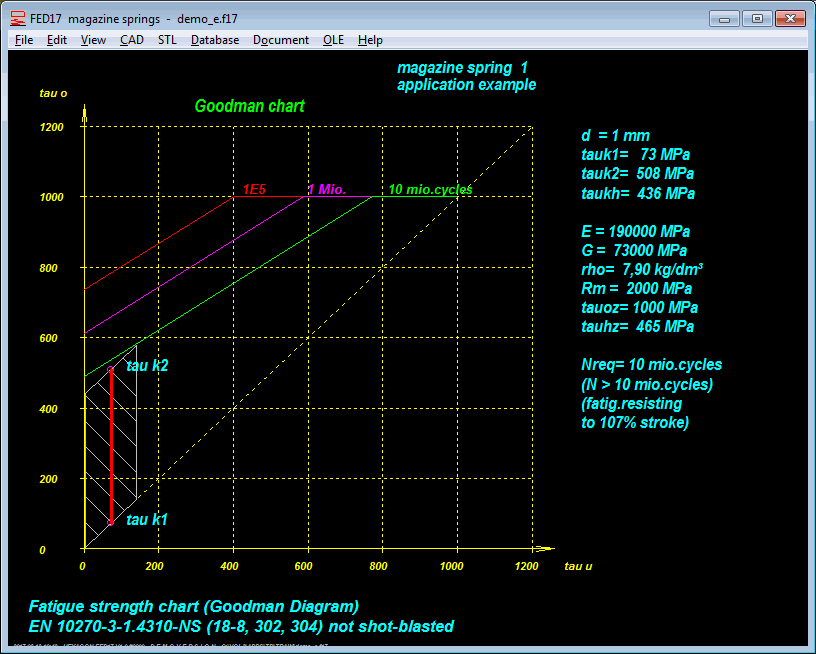 You can watch in the fatigue strength diagram whether or not the permissable variation of stress has been adhered to for dynamically stressed springs. The curves for fatigue strength safety (>10 million) as well as for 1 million and 100,000 load cycles are shown.
As alternative to Goodman diagram, FED17 also generates S-N diagram, Smith diagram or Goodman-Haigh diagram.
---
Relaxation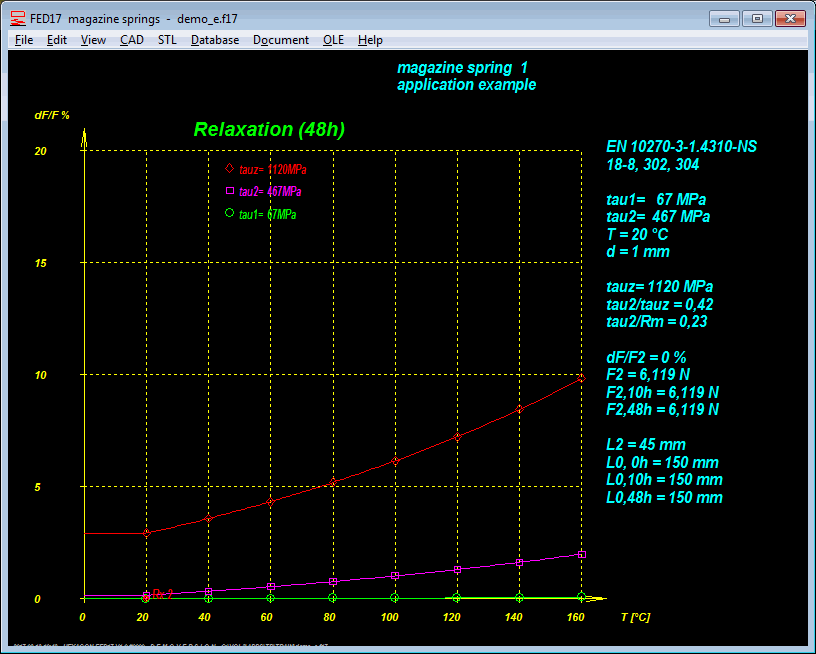 FED17 calculates relaxation of the spring depending on material, load, temperature and time.
---
Spring Drawing (2D)
You can display a scale drawing on screen in any clamping length between L0 and Lc. The spring drawing can be exported to CAD via DXF/IGES file.
---
3D centerline
You can draw a 3D centerline of the magazine spring on screen or generate as 3D DXF or IGES file.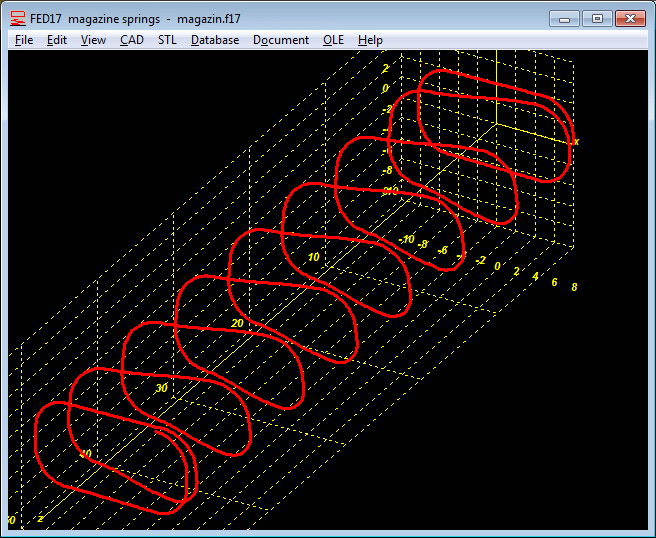 ---
STL Model
FED17 generates a 3D STL file of the magazine spring which may be used with 3D printer or viewer.
---
Production Drawing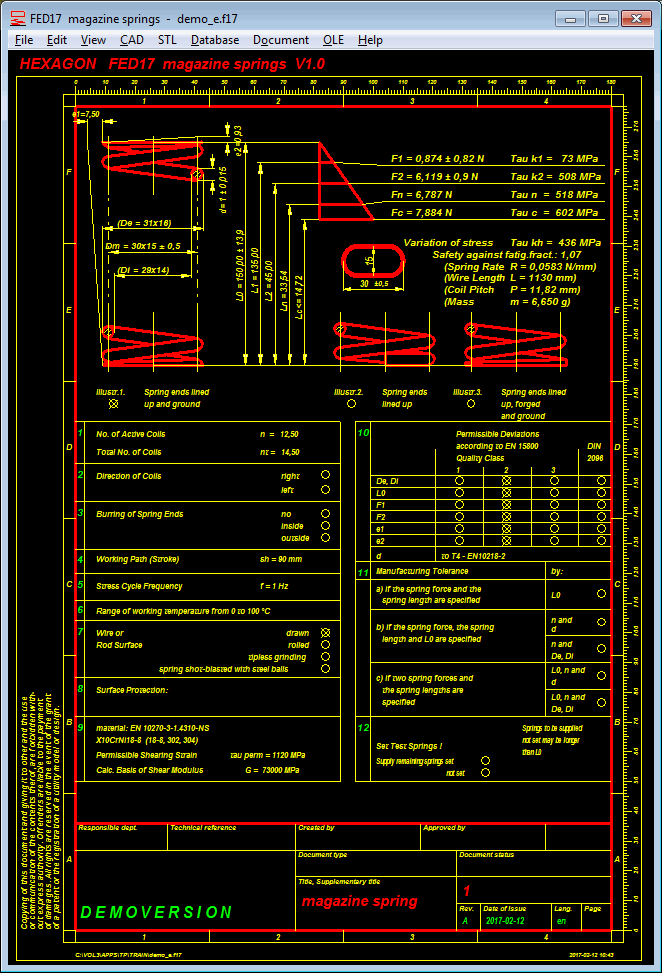 FED17 generates a complete production drawing according to EN 15800, which can be printed or exported to CAD.
---
Animation
FED17 animation simulates the motion of the spring between two specified points on screen.
---
Quick View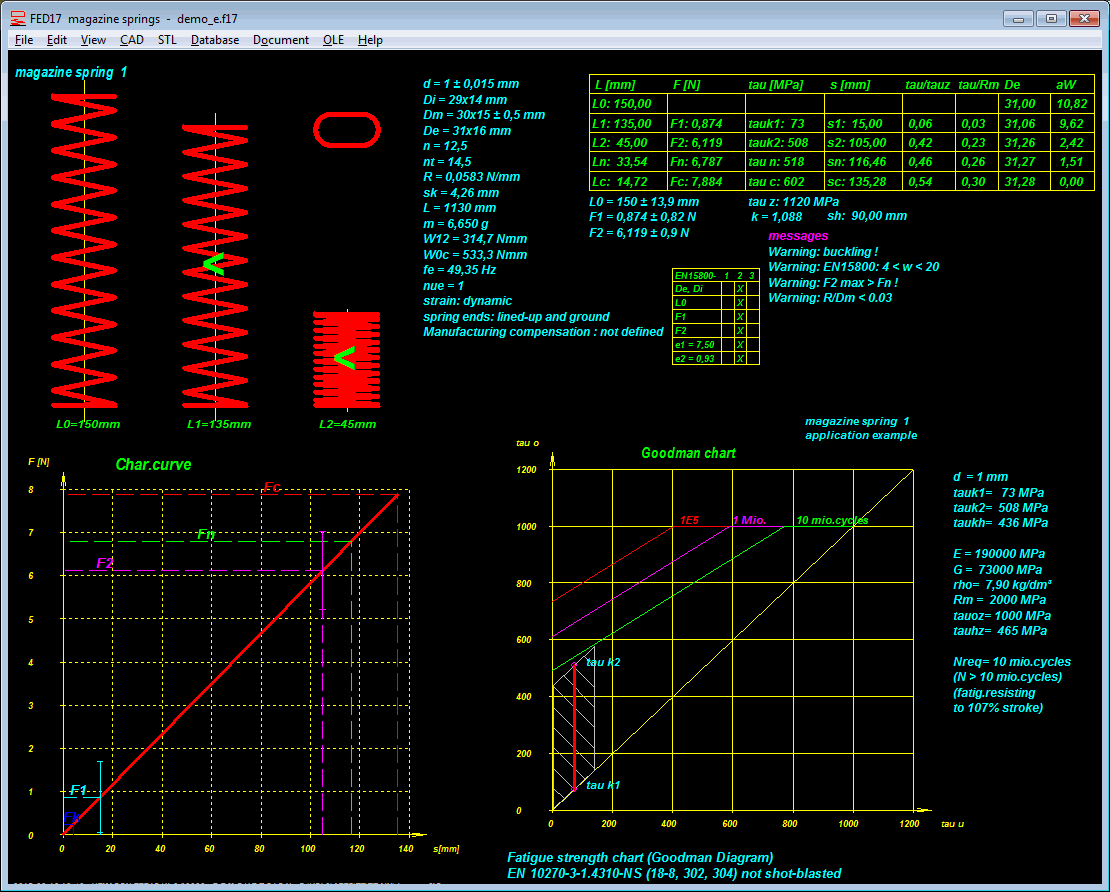 Quick View shows drawings, diagrams and tables altogether on one screen, ready to be printed. Various Quick view screens for different screen resolutions and paper sizes can be printed.
---
Help System
Help text and auxiliary images are available in the input windows. Manual can be displayed on screen or printed.
---
Hard and Software Requirements
FED17 is available as 32-bit app or 64-bit app for Windows 11, 10, 8, 7.
---
Scope of Delivery
Program with user manual (pdf), database files, example applications and help images, non-expiring license for unlimited time use with update rights.
---
Guarantee
HEXAGON gives a 24 month guarantee on full functionality of the software.
---
Software Maintenance
HEXAGON Software is continuously improved and updated. Registered users are regularly kept informed of updates and new editions.
---
Pricelist | Order | E-Mail | Home